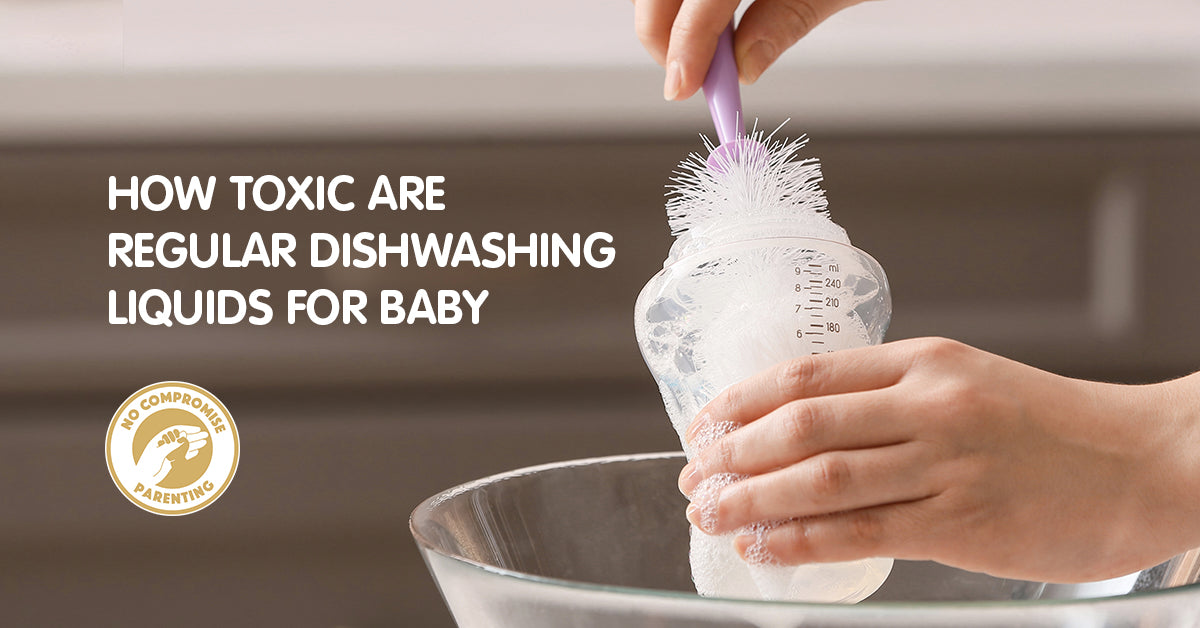 We've heard it time and time again through our favorite baby brands and fellow mom-friends: selecting the right baby bottle is important. When we think of protecting how we feed our little one, we commonly think of BPA-free bottles, safe food items, and even how to sterilize bottles.
However, we tend to forget about something extremely dangerous to our baby's tiny body if ingested: dishwashing liquid. 
The truth is, you weren't done when you bought the baby bottle. Sure, you found the perfect size, color, and BPA-free bottle, but what are you using to wash them out? The heavenly smelling, green bottle sitting next to the sink? The famous brand stocked on any and every grocery store aisle, the one that happens to be filled with toxic chemicals like Triclosan and Sodium Laureth Sulfate?
In this age of awareness, we have plenty of options to choose from, ones that opt for natural ingredients that still get the job done.
We've created this blog to help our fellow moms out on how to wash baby bottles out without using regular dishwashing liquid that compromises health and safety. 
Why Regular Dish Soap Just Won't Cut It
As mentioned above, regular dishwashing liquids contain harmful chemicals that can pose a risk to our little ones. Dishwashing liquid contains eight toxic chemicals that make it one of the most hazardous cleaning items in your household.
Babies have rapidly developing immune and respiratory systems, and their teeny-tiny size makes them more affected to smaller doses than other small children. 
In general, over half of all cleaning products have ingredients harmful to the tummy, causing gastrointestinal illnesses when ingested, especially when used in baby bottles.
That's why it's important that we as moms carefully investigate our products and their ingredients. We can begin asking things like:
Are these natural ingredients? 

Has this product gone through extensive testing?

Is this proven to be safe and edible?
Maybe it's time to ditch the popular brands for the non-toxic, edible, and tummy safe bottle cleansers. Here are a few factors to keep in mind when choosing your new dish soap.
When Choosing Dishwashing Liquid For Your Baby's Bottles, Consider These Factors
A lot of times, natural products will, in fact, be completely natural, but simply fail to get the job done.
As a mom, you don't have time to spend double the effort in cleaning your baby's bottles. You need something safe and simple. When selecting a safer product for your baby, make sure to check on whether the liquid is highly effective or doesn't really work at all.
You want a cleanser that can easily clean tough milk residues and foul odors. Product reviews are a great place to check and see whether the product is worth the purchase or not.
Also make sure the cleanser checks off these important boxes:
Safe and natural

USDA Biopreferred certified 

100% natural based ingredients 

Certified orally non-toxic by Industrial Technology Department Institute 

Safe to use in washing fruits and vegetables and even breastfeeding accessories  

Gentle on babies, tough even on breastmilk residue. 

FDA approved 
Having a good, clean product that includes all of these factors is a great way to eliminate any opportunity for your baby to come into harm's way. 
Get To Cleaning!
Well, there you have it. A few large red flags in the world of cleaning, and a few green flags for some of the products who are thinking of your baby's well being.
Consider these next action steps before selecting your new dish cleanser, and remember that while accidents do happen, some can be eliminated with just a few precautionary actions. 
ACTION #1
Watch These Test Videos: 
Test: How toxic your regular dishwashing liquid is for your baby?
Test: Is your natural baby bottle cleanser safe AND effective?
ACTION #2
Check out Cradle Natural bottle cleansers that are safely natural and naturally effective at NurseryVan.com.
 ACTION #3
Read related article: Why Using Natural Products Are Important for Babies 
---