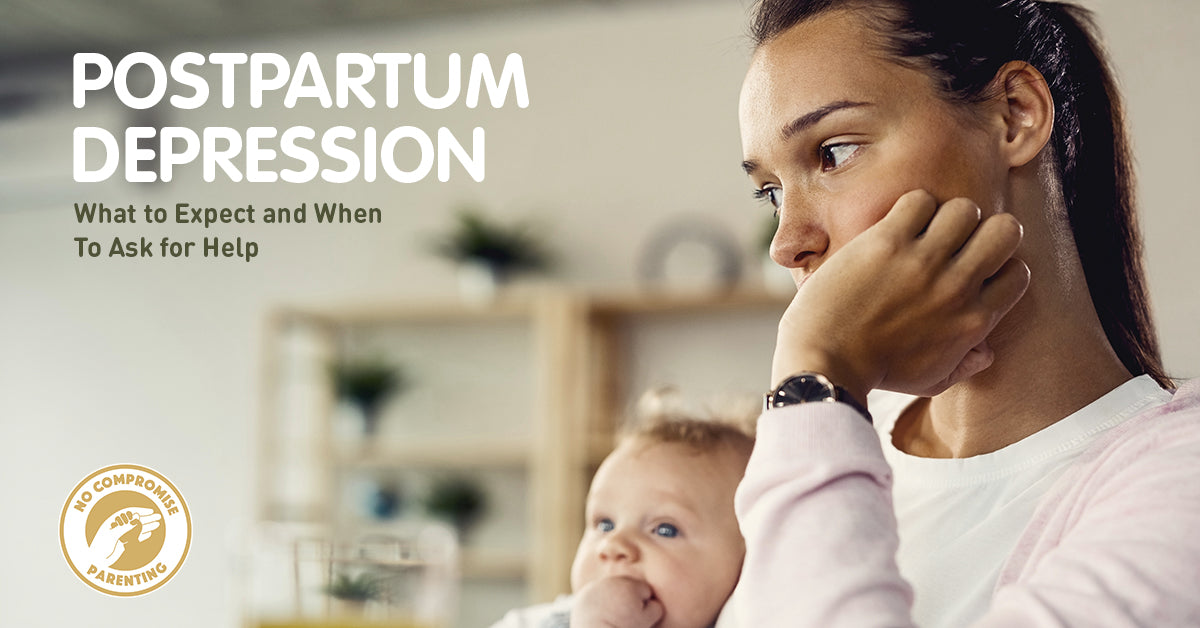 Having a newborn evokes a slew of intense emotions, ranging from joy and relief to fear and restlessness. But it may also trigger something you wouldn't expect — depression. 
It's particularly difficult to pinpoint what's bothering you, especially during the pandemic when stress and anxiety levels are elevated. Having to cope with the chaos of today's world on top of the already precarious transition into having a child can be a heavier challenge than struggling with just one thing at a time.
How common is postpartum depression?
Postpartum depression is a common concern after delivery. One of every nine new moms have postpartum depression. It can adversely affect both the mother and baby's prosperity, yet one of every five women stay silent about their indications and, consequently, remain untreated.
Maternity Blues vs. Postpartum Depression
Many hormonal changes after delivery are happening in the brain  and can possibly cause maternity blues or baby blues. It is usually a temporary condition that involves feelings of sadness after giving birth to a baby. Symptoms of maternity blues include crying without a reason, impatience, insomnia, restlessness, fatigue, anxiety, easy irritability, mood changes, thoughts of harming the baby, low self-esteem, and several other emotional issues. 
However, compared to postpartum depression this is only a Temporary condition and can be solved by a change of lifestyle, environment and support and usually goes away easily. 
Symptoms of Postpartum Depression: When to call the doctor
If you find yourself having prolonged feelings of sadness or emptiness, or  if you find yourself crying at the slightest issue or crying too much or weeping suddenly and you cannot pinpoint the cause, it can be a sign of a deeper issue. If you were in a happy state before and you begin to cry for no apparent reason, it might be a sign of depression and  you might need to check with your doctor. 
Other symptoms that point out to depression:
Loss of hunger

Low levels of energy

Difficulty in sleeping

Feeling useless or answerable

Sudden weight loss or weight gain

Inclining that life does not matter

Thoughts of self-harm 

Having less interest in your newborn

Difficulty in bonding with your baby
These symptoms may ease up for a day or two and afterward return. Without proper treatment, side effects may continue to worsen.
Postpartum depression Treatment | How Can You Overcome It?
Postpartum depression is an illness and is NEVER the mother's fault. Treatment is accessible for postpartum depression, and no mom should feel disgrace for seeking after therapy for this ailment. It is genuine, it is normal, it is okay to ask for professional help, and most importantly it is treatable.
Treatment for postpartum depression is essential for the prosperity of the parent and the baby. The sooner you get it, the sooner you will heal. 
Medications
These may be antidepressants, which can help supervise signs and improve the mind-set. These prescriptions may take 6 to 8 weeks to work.
Psychotherapy 
Therapy, for example, Cognitive-behavioural treatment, may help settle moderate post-pregnancy anxiety. 
Interpersonal treatment may similarly be a decent choice. It will probably improve social capacities and help make relational affiliations. 
Other Things You Can Do to Make You Feel Better
Postpartum depression can't be hindered or avoided. However, you can do a couple of things to set yourself up for it.
Follow a healthy eating routine

Build the bond with your baby stronger

Cut back on chores

Have skin-to-skin contact with the new-born

Communicate your feelings to your loved ones

Sleep soundly and relax 
To sum it up!
Changes in the life of a new mom can trigger a variety of emotions and hormonal imbalances that commonly causes feelings of sadness. If you are not sure of what you are feeling, it is best to talk to someone and ask for help.
You can't forestall or stop postpartum depression. But you should seek proper treatment to overcome the condition. Know that your healing and recovery after labor is a journey, and there will be ups and downs on this excursion. Support from the family, partner, and other women who have encountered PPD can add to a reasonable recuperation measure.
You got this, MAMA!
---