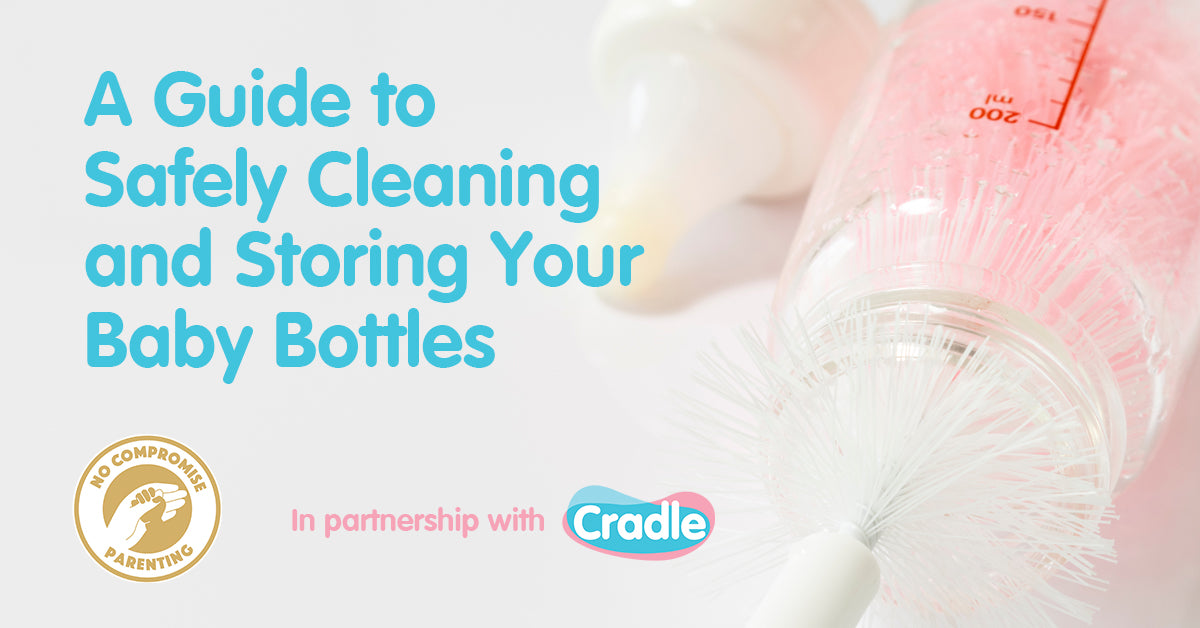 Since your little one's immune system isn't strong enough yet, it's essential to clean items, like their bottles, in safe and proper ways. Safely cleaning and storing baby bottles will help protect your baby from getting sick and shield their delicate tummy from bacteria and gastrointestinal infections. 
So, how exactly can we keep baby bottles safe and clean as much as possible? Here are some tips!
Disassemble and Rinse All Parts 
Baby bottles are designed to have different parts which can easily be separated.  Disassembling the bottle makes it more convenient for you to clean each part thoroughly and get rid of any excess milk hiding in the crevices. 
Bottles can easily get contaminated, and bits of milk getting stuck will only attract bacteria even more. So, be sure to inspect and clean every part, especially the nipples and caps.  
You can also use a washbasin solely for your baby bottles. Either cold, warm, or hot water plus a natural bottle wash will do the trick! Then rinse each part under running water.  
Wash with a Natural, Non-toxic yet Highly Effective Bottle Wash  
It's best to avoid using regular dishwashing soaps as they contain harsh chemicals like surfactants and other potentially harmful ingredients especially on bottles which directly go into your baby's mouth. 
As mentioned, your baby's immune system is still quite weak so they need all the help they can get to avoid sickness, allergies, and infections.  
There are products with natural formulation that are gentler, and safer for babies. If you'd like to go for the all-natural route, make sure the product is highly effective in cleaning even greasy breast milk residues, and most importantly, able to kill germs and bacteria. 
To know if an all-natural product really is safe and effective, see if it is approved by the FDA. The FDA approval, especially in baby products is a sign that a product has  been rigorously reviewed and tested for safety of your little ones. 
Other certifications labels to look out for are SGS, which is the global leader in the inspection, verification, testing, and certification, and is recognized as the global benchmark for quality and integrity. USDA BioPreferred label on the other hand,  gives you an assurance that the product you use is safe for your baby, and for the environment too! The program aims to decrease the dependence on fossil fuels to help fight climate change. Biobased products come from plants and other renewable agricultural, marine, and forestry materials.
Allow Bottle Parts to Air-Dry Completely  
You can use a drying rack, if you have one, to properly dry your baby bottles after washing. A drying rack may also be helpful in maximizing counter space because you can place all parts neatly on top of it. 
You can also place your wet bottles on top of a clean, unused kitchen towel just so they don't make direct contact with a bare surface. But do make sure that the towel is used only for your baby bottles and nothing else. It is not recommended to pat dry baby bottles with paper towels because there is a possibility of transferring bacteria.  
Air drying is a good option to prevent your bottles from attracting unwanted microorganisms.  
Sterilize to Increase Safety 
Sterilizing is the process of killing any harmful germs that may be clinging to surfaces of the bottles and other equipment. It is important to sterilize baby bottles before  each use, for at least the first 12 months of your baby's life. 
You can sterilize your bottles by boiling, steaming, or by using sterilizing equipment.  Some sterilizers even have a drying function for extra convenience.
Store in a Clean and Dry Space
If you have a small space, then a sterilizer with a drying function that can also double as a storage location will be very helpful. But if you do have extra storage areas, you can delegate a closed cabinet for your baby bottles. Don't forget to clean and monitor these storage spaces, too! Where you keep your baby's bottles is just as important as the items themselves. As we all know, water can also be home to bacteria and dust is a  primary cause of allergies. Always make sure that your storage area for baby bottles is clean, dry, and dust-free. 
As a no-compromise parent, choosing safe and effective products that protect your baby will put your mind at ease and keep your little one happy and healthy.  
You can shop here for natural cleaning products that are safe to use for your baby bottles!  
Sources:  
Centers for Disease Control and Prevention. How to Clean, Sanitize, and Store Infant  Feeding Items. 26 October 2020.  
NurseryVan. Why Using Natural Products Are Important For Babies. 21 May 2021. Raisingchildren.net.au. Bottle-feeding: cleaning and sterilizing equipment.
Related Articles:  
How Toxic Are Regular Dishwashing Liquids for Babies 
Why Using Natural Products Are Important For Babies
---